GRP Triple Section Ladders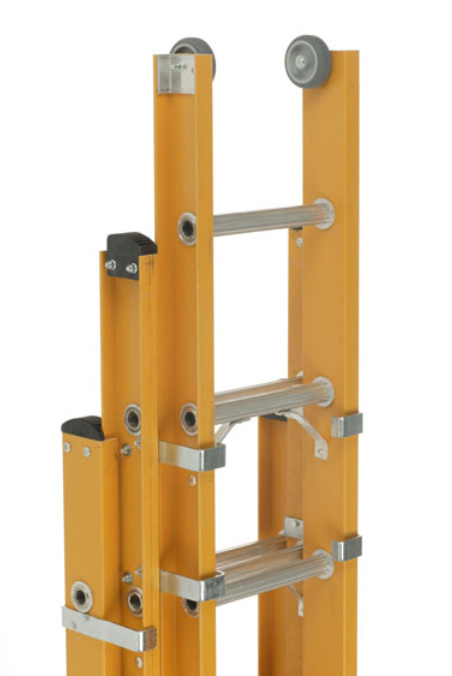 Three Section with Aluminium Rungs
The special rung joint, which is keyed into two retaining washers and the stiles, gives a very strong anti twist fixing. Special stay brackets are fitted to give added strength and prevent side sways. The ladder sections interlock and both push up and rope operated types have AUTO CLUTCH MECHANISM. The clutch is a proven design that had been developed over many years and will arrest itself rung by rung. Anti chafing during extension is achieved by fitting special rubber blocks into the channel section ends. Wall running wheels are fitted to all ladders to eliminate wear.
Three Section with Glass Fibre Rungs
The all fibre ladder is designed for use in areas where the minimum metal content is required. The unique fixing of the 30mm square rungs give a positive anti twist connection. Steel stay brackets give added strength and prevent side sway. All other specifications are as standard ladders.
Ordering & Technical
These products complies to: ANSI 14-5 and ENA TS 14-1 and are *Kitemarked BS EN 131 Add `R' to code if rope operation is required.
THREE SECTION PUSH UP

(add an "R" before the last two numbers of the ordering code to add rope operation e.g GL3 R 09)

Ordering C

Ordering Code
Alloy Round rungs

Ordering Code
Alloy "D" Rungs

Ordering Code
GRP Rungs

Length
Closed

Length
Extended

Rungs per
Section

Approx.
Weight

GL3 09

DGL3 09

AFT 09

2.55m

5.87m

9

21Kg

GL3 12

DGL3 12

AFT 12

3.26m

7.45m

12

27Kg

GL3 14

DGL3 14

AFT14

3.50m

9.25m

14

34Kg

*where applicable to relevant products.